The St. Lucia Passport:
A passport that allows visa-free, or visa-on-arrival travel to more than 146 countries.
The combination of best interests of Saint Lucia with the advantages of foreign investment renders Saint Lucia's Citizenship by Investment Program a success right from inception.
Successful applicants automatically receive immediate benefits, including a passport that allows visa-free or visa-on-arrival travel to more than 146 countries. The St. Lucia Passport gives access to 146 countries including right of entry into prime destinations such as Hong Kong, Singapore, the UK, Europe's Schengen Area, and more:
Andorra
Anguilla
Antigua and Barbuda
Argentina
Armenia
Aruba
Austria
Bahamas
Bangladesh
Barbados
Belgium
Belize
Bermuda
Bolivia
Bonaire, St. Eustatius and Saba
Bosnia and Herzegovina
Botswana
British Virgin Islands
Bulgaria
Cambodia
Cape Verde Islands
Cayman Islands
Chile
Colombia
Comoro Islands
Cook Islands
Costa Rica
Croatia
Cuba
Curacao
Cyprus
Czech Republic
Denmark
Dominica
Dominican Republic
Ecuador
Egypt
El Salvador
Estonia
eSwatini
Faroe Islands
Fiji
Finland
France
French Guiana
French Polynesia
French West Indies
Germany
Gibraltar
Greece
Greenland
Grenada
Guatemala
Guinea-Bissau
Guyana
Haiti
Honduras
Hong Kong (SAR China)
Hungary
Iceland
Indonesia
Iran
Ireland
Israel
Italy
Jamaica
Jordan
Kenya
Kiribati
Kosovo
Laos
Latvia
Lesotho
Liechtenstein
Lithuania
Luxembourg
Macao (SAR China)
Madagascar
Malawi
Malaysia
Maldives
Malta
Mauritania
Mauritius
Mayotte
Micronesia
Moldova
Monaco
Montenegro
Montserrat
Mozambique
Nepal
Netherlands
New Caledonia
Nicaragua
Niue
Norway
Pakistan
Palau Islands
Palestinian Territory
Panama
Peru
Philippines
Poland
Portugal
Reunion
Romania
Rwanda
Samoa (WS)
San Marino
Senegal
Seychelles
Sierra Leone
Singapore
Slovakia
Slovenia
Solomon Islands
Somalia
South Korea
Spain
Sri Lanka
St. Helena
St. Kitts and Nevis
St. Maarten
St. Vincent and the Grenadines
Suriname
Sweden
Switzerland
Taiwan (Chinese Taipei)
Tanzania
The Gambia
Timor-Leste
Togo
Tonga
Trinidad and Tobago
Tunisia
Turks and Caicos Isl.
Tuvalu
Uganda
United Kingdom
Uzbekistan
Vanuatu
Vatican City
Venezuela
Zambia
Zimbabwe
Due diligence
In order to serve the country and investors excellently, the Saint Lucia Citizenship by Investment Program performs robust due diligence during the application process. In addition, the program works in conjunction with its local and regional intelligence partners. This protects the integrity and value of the Saint Lucia passport.
Transparency
The Saint Lucia Citizenship by Investment Program has no hidden agenda. What you see is exactly what you get. Saint Lucia maintains utmost transparency in the entire application process including its offer to all applicants. To further enhance the transparency, the St. Lucia publishes full details of the financial affairs of the program on an annual basis.
Efficiency
We understand perfectly that time is of essence to our applicants when it comes to obtaining a grant of citizenship. Therefore, we continually seek to appraise and enhance the procedures, even as we strive to maintain our strict due diligence process. We are proud to announce to investors that, in most cases, our processing time for a grant of citizenship is significantly lower than the 90 days' guideline.
Integrity
The Saint Lucia Citizenship by Investment Program accords the same principle and process to every applicant. Each application is reviewed in the same way through the same process, without preference or prejudice. Every applicant can confidently expect to receive the same experience and attention.
Choose Saint Lucia, and enjoy the myriads of advantages the citizenship provides.
Should you have any questions, or if you would like a detailed breakdown of the exact costs for your family, kindly contact us and we will be delighted to help you.

Location:
St. Lucia is located in the Caribbean between the Caribbean Sea and the North Atlantic Ocean.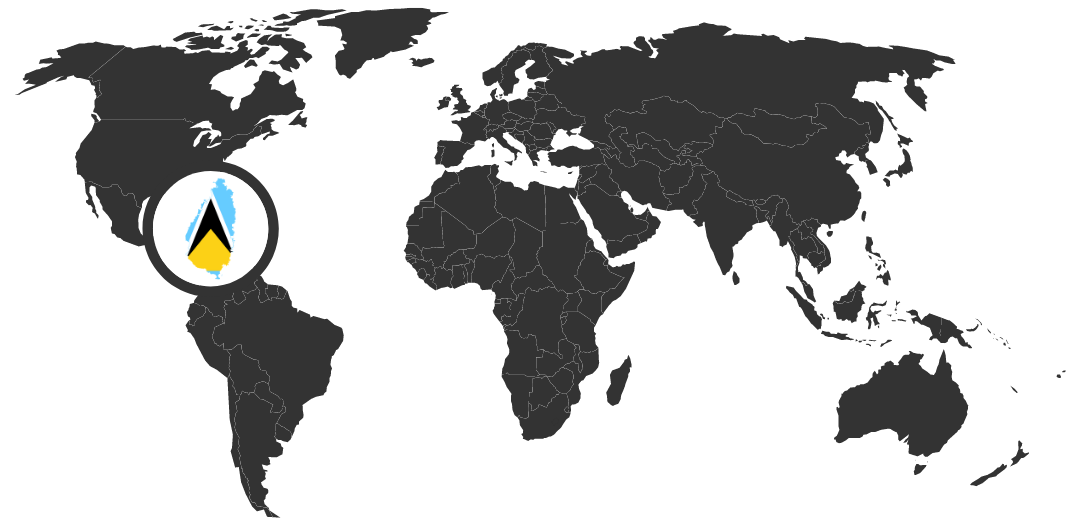 Key Benefits:
• Visa-free or visa-on-arrival travel to 146
countries.
• No physical presence required & no minimum stay required.
• Attractive program and processing costs (from just $100,000).
• Dual citizenship recognized.
• Attractive tax regime. No tax on worldwide income.
• Entire family are eligible. Including spouse, children, parents and siblings.
• Ability to to add additional dependents for up to five years after the main applicant's grant of citizenship.
• Short investment period. 5 years if you invest in property or government bonds.
• Investment required only after approval. Complete investments after receiving citizenship application approval.
Population:
166,400
Economy:
Tourism-based
Capital:
Castries
Time zone:
UTC-4
Total area size:
616 sq. km. (152,216 acres)
Age Demographics:
0-14: 20.35%, 15-24: 15.88%, 25-54: 42.97%, 55-64: 9.58%, 65+: 11.22%
Language:
English (official language) & French patois.
Religions:
Roman Catholic: 61.5%, Protestant: 25.5%, Pentecostal: 8.9%, Baptist: 2.2%, Anglican: 1.6%, Church of God: 1.5%, Other Protestant: 0.9%), Other Christian: 3.4% (includes Evangelical: 2.3% and Jehovah's Witness: 1.1%), Rastafarian: 1.9%, Other: 0.4%, None: 5.9%, Unspecified: 1.4%
Goverment Type:
Parliamentary democracy (Parliament) under a constitutional monarchy and Commonwealth realm.
Currency:
East Caribbean dollars (XCD), tied to USD (1 USD = 2.7 XCD).